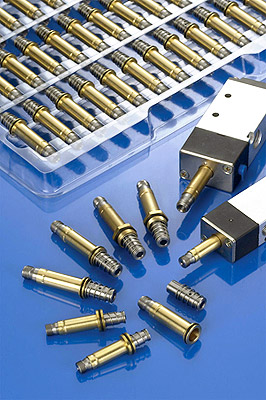 Jinn Woei - Tsay Co., Ltd. established since 1986 is a leading and professional manufacturer of armature assembly in Taiwan.
Using specialized materials for production, Jinn Woei's line of armatures boast exceptional quality and precision. Even after long hours of usage and continuous operation, the products does not accumulate magnetism allows fast separation. Each cycle of operation only takes 0.02 second, and can still function normally under extreme high pressure.
Armature assembly application: pneumatic solenoid valve, solenoid control valve, solenoid valve, automobile parts...etc.
Profile
| | |
| --- | --- |
| Established in: | 1986 |
| Annual Sales: | USD 3,000,000 |
| Capital: | USD 1,500,000 |
| Business Type: | OEM Manufacturer ODM Manufacturer Exporter / Agent |
| Markets: | World Wide |
| Main Products: | Armature Assembly, Pneumatic Solenoid Valves, Automobile Parts |
| No. of Employee: | 50 |
| Location: | Taiwan |
| Factory: | Taiwan |
Contact Detail
| | |
| --- | --- |
| CEO: | Mr. Tony Tsai |
| Contact: | General Manager Tony Tsai |
| Address: | No.26, Aly. 266, Ln. 228, Sec. 2, Nankan Rd., Lin 4, Changxing Vil., Luzhu Dist., Taoyuan City 338, Taiwan |
| TEL: | 886-3-3527322 |
| FAX: | 886-3-3527319 |
| Email: | jwtcoltd@ms59.hinet.net |
| URL: | http://www.jinnwoei.com.tw |
| ZIP: | 338015 |